Demand for outdoor features has boomed since the start of the pandemic. These projects stand to earn the most at resale, according to a new survey.
Many homeowners have turned their attention to enhancing their outdoor space since the pandemic began—and that may pay off at resale, according to a new survey from the National Association of REALTORS® and the National Association of Landscape Professionals. Ninety-two percent of REALTORS® say they recommend that sellers improve their curb appeal prior to listing, finds the 2023 Remodeling Impact Report: Outdoor Features. REALTORS® most often recommend general landscaping maintenance, standard lawn care service and tree trimming."It's no surprise that nearly all REALTORS® and most homeowners place a high value on the curb appeal of a well-maintained yard," says NALP CEO Britt Wood. "Healthy outdoor living and green spaces help the environment, increase home values, make communities more desirable and improve people's mental and physical health."

The COVID-19 pandemic changed the way Americans use their homes for daily living, relaxation and entertainment, adds Jessica Lautz, NAR's deputy chief economist and vice president of research. "Homeowners have embraced their outdoor spaces, transforming them into oases with pools, patios, plants and greenery," Lautz says. "These outdoor features … can also attract buyers if the owner wants to sell."
Prioritizing Outdoor Projects for Resale
Most homeowners indicate a desire for an in-ground pool or an outdoor fire feature, but the ROI on these items may not be as high as simple lawn care and landscape maintenance, the report finds. The survey defines "standard lawn care service" as six seasonal applications of fertilizer and/or weed control on a 5,000-square-foot lawn and "landscape maintenance" as mulch application, regular lawn mowing, pruning shrubs and planting about 60 perennials or annuals.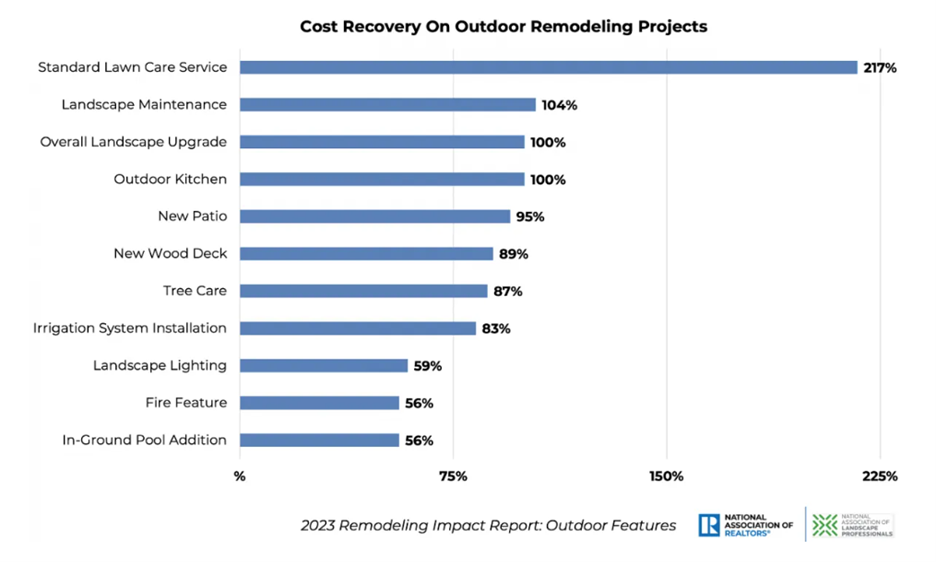 The features that make homeowners happiest, however, aren't necessarily the ones that earn the most at resale. The least expensive projects, such as standard lawn care service, have the highest cost recovery but one of the lowest "joy" rankings from homeowners, according to the survey. Instead, the report found that the following outdoor projects received the highest satisfaction marks among homeowners:
In-ground pool
Landscape lighting
New patio
New wood deck
Fire feature
On the other hand, the items that ranked the lowest on homeowners' "joy" scale were:
Outdoor kitchen
Tree care
Standard lawn care service
Installing a yard irrigation system
The majority of landscape professionals surveyed say the size and scope of outdoor home improvement projects have increased since the pandemic began. REALTORS® surveyed say the landscape projects they've seen most often since the pandemic began are the addition of an in-ground pool, landscape maintenance and a new patio.