Sellers gearing up for the spring home shopping season need to roll up their sleeves now and spruce up their homes if they want to attract a shrinking pool of buyers. Investing in improvements, maintenance and repairs could pay off when it's time to sell. New research conducted by The Harris Poll finds a majority of recent sellers (65%) take on at least two home improvement projects to prepare their home for sale, while Thumbtack data finds they can invest about $5,400 on average when hiring a professional to complete the most common projects.
The survey finds that sellers who sold their home within the past two years most commonly completed interior painting (40% did this), carpet cleaning (35%) and landscaping (33%) before listing their home for sale.
Data from Thumbtack shows the average cost of those projects adds up to $5,388, but can average as much as $8,249 in metro areas like Seattle–Tacoma and as little as $4,102 in metro areas like Miami–Fort Lauderdale. In addition to location, costs for these home improvements can vary based on the size and scope of the project. For instance, smaller landscaping projects, such as flower planting, lawn upkeep and shrub trimming, can cost several hundred dollars, while larger projects involving tree planting and sprinkler installation can cost thousands.
"These projects can instantly boost a home's online curb appeal," said Amanda Pendleton, Zillow's home trends expert. "An inviting outdoor space, clean floors and a fresh coat of paint — particularly in the right color — can deliver a powerful signal to potential buyers that a home is well-maintained and contemporary. While sellers may be reluctant to shell out for these projects up front, those improvements can ultimately pay off, either by helping a home sell faster or for more money."
Nearly 3 in 4 recent sellers (74%) believe the improvement projects they completed to prepare their home for sale helped their home sell. The top projects that recent sellers say helped sell their homes were interior painting (27%) and landscaping (21%).
"A well-maintained home is one of the best ways for homeowners to attract buyers," said David Steckel, home expert at Thumbtack. "Thumbtack research finds a well-maintained home can sell for about 10% more than a similar home in average condition. Buyers are making life's biggest investment, and they want the peace of mind that they're investing in a home that was well cared for."
When considering which projects to skip, only 11% of recent sellers thought appliance repair or replacement, and roof repair, maintenance or cleaning helped sell their home. Meanwhile, fewer than 1 in 5 of recent sellers (17%) believe completing a kitchen renovation to prepare their home for sale helped sell it. While costs vary depending on the work done and materials chosen, this project can average $10,355.
Neglecting needed repairs and minor cosmetic updates can lead to seller regret, particularly in today's shifting market. The Zillow survey found that 30% of recent sellers think more home improvements or repairs would have helped them get a higher sale price. Separate research finds that about 2 in 3 real estate agents believe today's sellers are mistaken if they think they don't need to make home improvements before selling.
Late April is traditionally the best time to list a home for sale, which means now is the time to get a jump on any repairs or improvements. Previous research found that the top seller's regret is that they didn't start the process of preparing their home for sale sooner. And one-quarter of sellers who made at least one home improvement before listing their home for sale say it took longer than expected.
Today's housing market is far different than the frenzied pandemic era of bidding wars and record-fast sales. A recent study finds that homes are now lingering on the market for a median of 54 days, 45% longer than last year. However, the listings that are finding buyers are doing so in 18 days nationwide, suggesting the most appealing homes are still moving very quickly. A trusted local real estate agent can help sellers decide which projects are worth the investment based on the market in their neighborhood, and Thumbtack can help homeowners find a local professional to get the job done.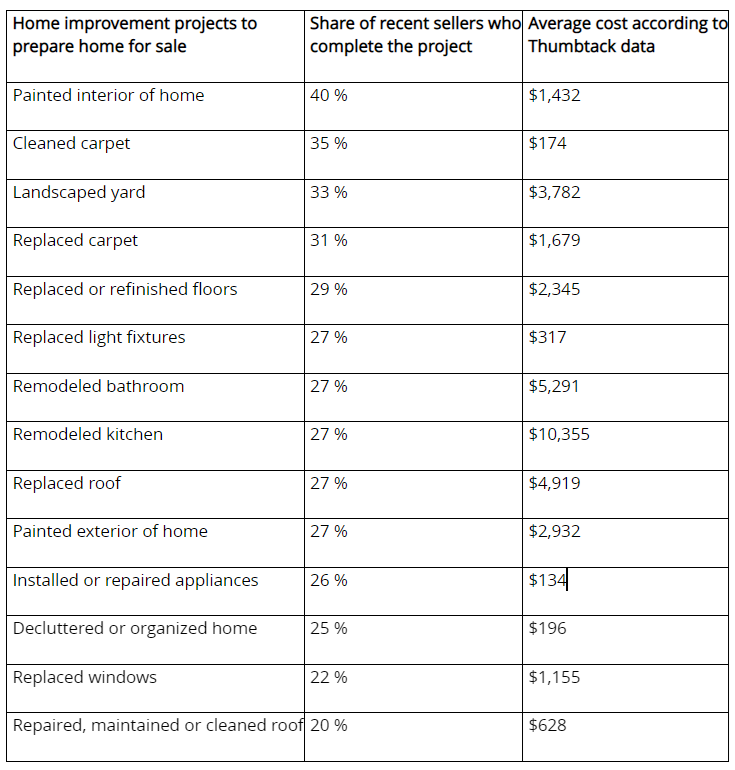 If you need financial assistance with preparing your home to list, call me! With RealVitalize and Coldwell Banker Realty, we can get the job done with no out of pocket expense to you.
-Suzanne