If not in stock and bond markets, where are affluent consumers currently parking their wealth? The answer to that question can be a lot of things: art, handbags, jewelry. One should always check with their investment advisor, but in reality, luxury real estate is considered one of the safest long-term investments one can add to their portfolio.
This year, my team at Coldwell Banker put a closer lens on the habits and sentiments of the affluent to get a pulse on the top trends currently dominating the luxury landscape. We conducted a survey of more than 2,000 U.S.-based high-net-worth consumers, paired with our annual fall report newly dubbed, "The Trend Report."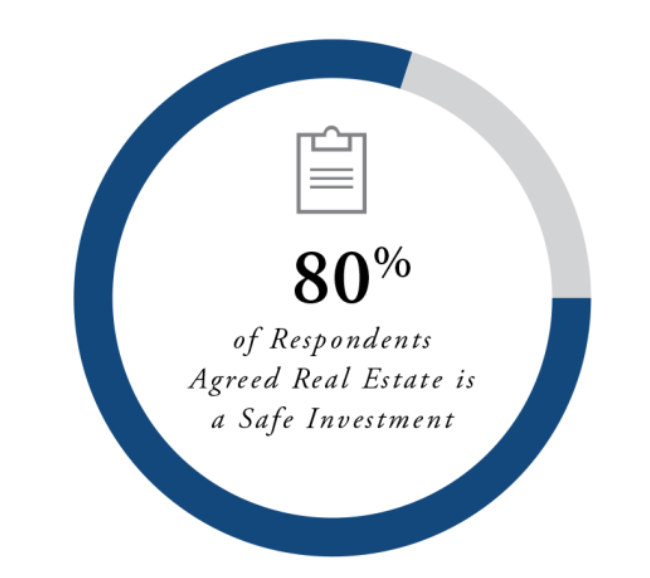 80% of the respondents agree that real estate is a safe investment. In addition, consumers are more than three times more likely to think that 2023 will be a better time to invest in real estate than was 2022—rising by a whopping 42% from only 11% a year ago.
Together, these insights help us better understand what else is driving affluent consumers' desire to invest in real estate, where they're purchasing properties, and their attitudes on the value of a trusted advisor.
Through the Coldwell Banker Global Luxury program, our affiliated agents sold $267 million in luxury homes sales every day during 2021—up 59% from 2020. With the guidance of our luxury specialists, clients have been able to reap huge returns on the sale of their homes by making property enhancements—in addition to installing chic furnishings and lush landscaping—paving the way for them to place those profits growing their real estate investment portfolio.
SEEKING STABILITY
Affluent consumers are gravitating towards real estate that gives them financial, emotional, and psychological security.
I spoke to industry legend Jade Mills, president of Jade Mills Estates and Coldwell Banker Global Luxury Ambassador, about her firsthand expertise in the luxury market. According to Jade, "luxury buyers still have leverage to purchase investment properties, with many of them taking advantage of lower prices in areas where the market is softer."
Real estate has always been one of Americans' favorite long-term wealth-building assets—and it shows in our survey. More than 77% respondents currently own an investment property, with nearly two-thirds of them owning two or more investment properties.
"Real estate is the best investment one can ever make," noted Jade. "I don't just sell property, I own property too, and it has done nothing but go up. For example, there are certain areas in California where prices never really go down. You just don't make that kind of return on investment in the stock market."
Not only can a long-term investment in real estate generate income to obtain financial security, but it also creates a path to generational wealth. More than 45% of survey respondents say they purchase real estate as an inheritance for their children.
SHIFTING LIFESTYLE FOOTPRINTS
Many wealthy buyers today are looking for smaller secondary homes and investment properties, particularly in traditional centers of luxury. 72% of survey respondents who are planning a home purchase in the future said that the new home would be a second residence, rental property, or vacation home.
"People want homes that are move-in perfect; there's currently a sweet spot for homes priced between $3 to $4.5 million in Southern California," Jade explained. "Not only that, but the neighborhood, schools, and community amenities are all major factors that buyers look at when purchasing a home. As real estate agents, we keep up with these insights to be 'in the know' for our clients." Again, for true investment guidance, one should still seek the opinion of their investment advisor.
Interestingly, 25% of respondents who purchased a home during the pandemic were dissatisfied, and location was found to be one of the primary drivers of their discontent. Nearly 41% of respondents cited that their next purchase would be based on investment opportunity, eyeing prime locations like New York and California.
Among their reasons? 40% said that quality of life remained at the top of their priority list, underscoring the long-term strength of these historic epicenters of wealth.
PROFESSIONAL GUIDANCE
The unparalleled advice and white glove service of a trusted advisor when buying or selling a home has never been more vital than today. Nearly 90% of survey respondents have used a real estate agent to assist them in the purchase of their home, and plan to do so again in the future.
Star agents like Jade have quickly become the key to aspirational lifestyles. These agents understand luxury buyers' unique needs for privacy and have the connections to access the other specialized amenities they desire.
"The deep connections I've built—both in real estate and across other luxury sectors within fashion, design, exotic cars, etc.—have helped me deliver incomparable service and expertise to my clients that keep them coming back," Jade said.
GOING FORWARD
Despite the headlines, the trends tell a clear story about the resiliency of luxury market segments today and their value beyond the price tag. As buyers seek stability, safe-haven investments, and security, the demand for luxury continues to drive the resilience of the market.
To read the full Trend Report and learn more about Coldwell Banker's exclusive luxury insights, please visit https://blog.coldwellbankerluxury.com/the-trend-report-2022.
Michael Altneu is vice president for Coldwell Banker Global Luxury. Follow Michael at @cbgl.michael on Instagram and @MAltneu on Twitter.